ABOUT AUSTRALIA
Australia, officially named as Commonwealth of Australia, is one of the most happening places in the world for one to study and live. It is in terms of size the sixth largest country in the world. Australia holds a position of pride as one of the most developed nations of the world. It is also one of the wealthiest countries of the world. The population of Australia comprises of English, Australians, Irish, and Scottish etc. Indians constitute 2% of the total population of Australia.
Australia population is around 20.8 million .Australia's major cities along the coast: Sydney, Melbourne, Brisbane, Perth and Adelaide. Each city has its own personality with a mix of late 19th Century European architecture and modern high-rise buildings. Most Of city is very good
Life and culture of Australia is quite cosmopolitan in nature. The people of varied nationalities have migrated to Australia and settled there. Although Australia has no official language, English, however, is the most commonly spoken language. Apart from English, other languages such as Mandarin, Italian, Arabic, and Greek are also widely spoken. Australia is a secular country and, therefore, there is no state religion. Nonetheless, the people adhering to Christian way of life and beliefs constitute majority in Australia. Other non- Christian religions such as Buddhism, Islam, Hinduism and Judaism also has its fair share of followers in the country.
Australia experiences temperate weather. Climatic conditions can vary from one part of the country to the other because of the sheer size of the country. The northern part of the country experiences warm weather most of the year while the southern part usually, witness's cooler winters. Indian population is scattered across the country. Nevertheless, Sydney, Melbourne, and Perth are the places where majority of Indians reside and work in Australia. Also, these are the cities where Indian cuisine restaurants and movie theaters showcasing Indian movies are found the most. These cities have highly cosmopolitan culture and are very welcoming.
From the point of view of employment, tourism is one of the top industries in Australia. Consequently, finding a temporary or a part time job in a hotel or a bar is not difficult. Apart from this, agriculture; manufacturing and telecommunications are other flourishing areas of employment.
STUDY IN AUSTRALIA
Australia is one of the most favored international education destinations. Australia has 7 universities which feature in the list of top 100 universities in the world. It offers a diverse range of study in Australia options for international students, with more than 1200 institutions and 22,000 courses to choose from. Apart from high academic credentials, the cities of Australia are particularly known for the welcoming air that they possess. Thus, it is not surprising that 5 out of 30 most friendly cities for international students in the world are in Australian Education Consultants. As an international student on a student visa, you must study with an institution or a course that is registered on the Commonwealth Register of Institutions and Courses for Overseas Students (CRICOS). CRICOS registration guarantees that the course and the institution where you study meet the high standards expected by international students. At present, there are 38 public universities and 3 private universities that are CRICOS recognized.
Australia is a safe and friendly destination and a sophisticated and technologically advanced society with a reputation for quality, excellence and reliability in education services. All University and Colleges have Updated technology and Courses.
LIVING COST IN AUSTRALIA
| | |
| --- | --- |
| Food | A$80- A$120 per Week |
| Rent for House | A$120- A$280 Per Week |
| Gas | A$ 25 per Week |
| Cloth Washing | A$15 per week |
| Transport | A$ 15- A$20 per week |
| Telephone | A$20 per week |
| Movie | A$ 35 per Week |
Total Expense for one person to live in Australia Is Approximately: A$600.
COST OF STUDY
| | |
| --- | --- |
| Diploma Courses | A$ $ 9,000 – A$$12,000 |
| Bachelors Degree | A$10,000-A$18000 |
| Masters degree | A$ 13,000-A$ 24000 |
COST OF STUDY
| | |
| --- | --- |
| ESL Language Course | 4 Weeks to 48 weeks |
| Certificate Courses | 6 Months to 12 Months |
| Diploma | 12 Months to 18 Months |
| Bachelor Degree | 36 Months |
| Master Degree | 24 Months |
| PhD Degree | 36 months to 48 Months. |
Document Require for Application
Australia / Why Australia
In Australia, you have the freedom to choose a path that suits your particular goals. There are thousands of courses on offer.
Whichever course you choose, you'll experience a unique kind of education. Studying in Australia promotes innovative, creative and independent thinking. You'll learn to work as part of a team, to communicate effectively with others and to develop the practical skills and intellectual abilities you need for global success.
Most importantly, you'll learn how to use your initiative. Your teachers will encourage you to think of original, practical solutions to real-world problems. Upon graduation, your qualification will make you highly sought after by Australian and international employers.
The Australian education system has a strong international reputation and is known for its effective structure and innovative policy developments. Many other countries, eager to improve their own education systems, turn to Australia for advice.
Australia is also one of the best places to live. It is a young, vibrant and friendly country in which students can live, learn and grow. So if you want a quality education and a good lifestyle, Australia's the place to be.
Australia / Education System
There are 39 universities in Australia offering Bachelor degrees, Master's degrees, Doctorate, Postgraduate certificates and Postgraduate Diplomas that are recognized throughout the world. Universities are established under legislation and set their own academic requirements within strict legislative guidelines.
As part of its commitment to the high quality of Australia's higher education, the Australian Government has established the Australian Universities Quality Agency (AUQA). This agency is tasked with ensuring high quality of teaching and learning, research and management standards in Australian universities through a panel of expert senior academics and administrators. Higher education research: There is a strong culture and tradition of leading research in Australian universities that has been internationally recognized.
Australia has an integrated nationwide system of qualifications, known as the Australian Qualification Framework (AQF), which is recognized by the Australian Government. Under this, students can move easily from one level of study to the next and receive credit for previous study. It brings together the qualifications offered at different levels.
There are several institutions offering Vocational courses offering Certificate and Associate Degree programs (equivalent to +2 level in India), which are highly popular for their employment potential. TAFE colleges and private institutions are highly popular in offering Vocational programs. The vast range of courses includes information technology, business and management, marketing and communications, health, science, design and the arts, television production and media, environmental studies and land management, sport and recreation, engineering and building, and hospitality and tourism. English language training and university preparation courses are also offered. TAFE courses most appropriate for students from India and neighbouring Asian Countries are at Certificate II, III, IV, Associate Diploma, Diploma and Advanced Diploma level and are normally of two-year duration.
After the vocational level, admission is possible at the undergraduate level, which offers Bachelor's degrees. The subsequent level is the Post-graduate, where Master's programs are offered. Interestingly, the three-year degrees from India are acceptable for direct admission into Master's level programs in Australian universities. At the Master's level, the focus is more on research, though most universities are offering professional master's degrees too, that are suitable for gainful employment. A good academic record in Bachelors degree from a recognized university is necessary. Any work experience in the field will be helpful. For most of the MBA programs, students need to have 2-5 years of work experience along with their Bachelors Degree, in addition to good GMAT scores.
study australia's gamut of services provide total assistance and guidance about the education system, studying at all levels in your country of choice and plan your total process, right from pre-application to visa, in a professional and result-oriented manner. For more information about our services, please click here If you have any queries, use our helpline
Diagram of education system, Australia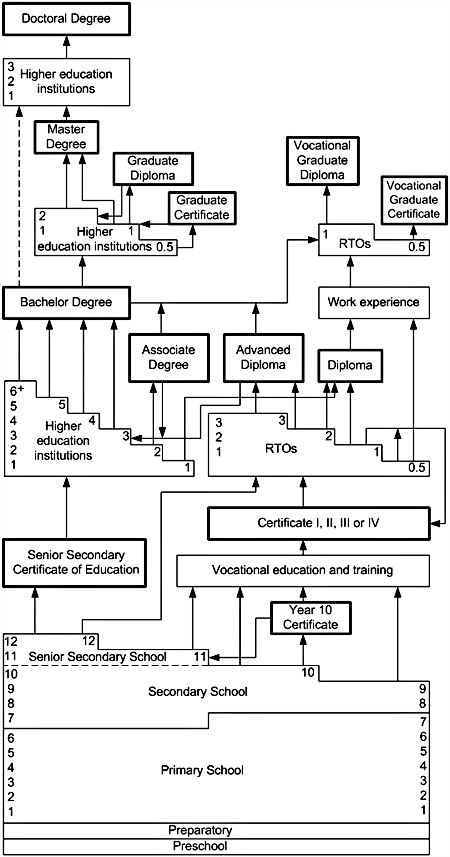 Australia / Admission Procedure
The main intake for all Australian Institutions is February. Every university opens admissions for all courses that they offer, for the February intake. There is also a Mid-year intake offered by some Australian Universities during July. It is important to keep in mind that, a university offering an intake in February might not necessarily offer all the courses that they have on list, during the mid year intake. Whether or not a University will offer a July intake can be found out on the university website , university brochures or from our career counselors. Some universities also follow November – summer intake. It is available only for limited number of universities and limited courses.
Make an application to the institution of choice through ED GURU.
The institution will make an offer of admission based on qualifications after assessing the application.
Submit a Pre Visa Assessment (PVA) application to the Immigration Section of the Australian High Commission through ED GURU
Australia / Required Tests
For admission into any level of programs, IELTS is required for admission and for visa purpose as well.
For Master's level programs in Sciences, Engineering and Education this is the only requirement. Unlike the US, a score in GRE is not required. At the same time, some universities prefer applicants with a GRE score.
However, for admission into MBA programs, decent GMAT score, in addition to IELTS and relevant work experience of at least 2-3 years is required along with good academic background.
Health insurance
All international students in Australia are required to have medical insurance. The overseas Student Health Cover (OSHC) charge of A$ 274 is payable before the student visa is issued.
Australia / Admission
As there are no grading/rating of universities, students are advised to go through the program structure and course content. Reputations are built over a long period and universities are known for their specific faculties.
To start with, the student should collect various brochures and prospectus for different institutions and do a comparative analysis of the institutions, vis-à-vis course details, tuition fee, standing of the university etc.
Detailed information and guidance is available from the counselors of Ed Guru and through our website's helpline Once the institution has been decided upon, the procedure to be followed would be: -
Australia / Cost of Education
The average tuition fee for different programs can be: (Australian $ per annum)
| | | | |
| --- | --- | --- | --- |
| | Diploma | 9,000 – 14,000 | |
| | Bachelors Degree | 14,000 – 35,000 | |
| | Masters degree | 15,000 – 36,000 | |
Accommodation and living expenses
For accommodation, students have a number of options available that can be on-campus or off-campus such as hostels, rented housing, homestay etc. The cost of living can vary depending on the city. However, on an average, a student would need be A$ 18,000 per annum. This amount would cover accommodation on rent, food, clothing, transport etc.
Work After Studies
International students seeking to work in Australia after their education have to apply for the work permit from DIAC (Department of Immigration and Citizenship).
As in the US and UK, students who go to Australia for full-time studies can work up to 20 hours per week part-time. However, spouses of students can work for unlimited time, if the student goes for Masters level education. Spouses of other students can only work up to 20 hours.
Another advantage for the students is that they could obtain a Work Permit along with the student visa itself, for which the total fee is AUS $ 540 (may be changed from time to time)
All international students have to apply for and obtain Tax File Number (TFN) before applying for a job in Australia – even part-time job. Obtaining TFN is easy, since that can be done online, once the student reaches Australia.
When the student visa is received, the government lets one in on basis of temporary entry for study with the understanding that one will leave upon completion of course and before the visa will expire. However, Australia continues to have demand for foreign workers, and students that have earned a degree in Australia have a special work visa category. There are also several other visa categories open to international students, and Australia has a very straightforward path to permanent residency using a points system . If one wants to stay and work after one graduate, one must apply and obtain a work visa.
Here are a few of the categories of visa that are available:
485 Skilled Graduate Temporary Visa - This visa is the most common option available to international students after graduating.
442 Occupational Trainee Visa - Another option for international students, the 442 visa is for students to improve their work skills for up to two years while being sponsored by an employer.
487 Regional Sponsored Visa - This visa provides a pathway for permanent residency while allowing one to work for 3 years and work in a specialized regional area
887 Skilled Regional Residence Visa - The 887 visa awards one permanent residency and with this one can live and work in Australia permanently. One must have already lived in Australia for two years, have a year of work experience and have sufficient points.
885 Skilled Independent Residence Visa - The 885 visa allows one to live as a permanent resident and work without needing to be sponsored
886 Skilled Sponsor Resident Visa - The 886 visa allows an overseas student to apply for permanent residency and work while being sponsored by an employer.
Students Searching for a Job

Many universities and colleges in Australia provide a special service called "Job Access" that helps students to find a good position in the job market. Apart from that students can also find the jobs in newspaper, online and from events and job fairs.

There will be Employment Officer in many universities to help students look for part-time work, most of which is non-professional, such as waiting on tables, cleaning or sales. Students may find casual work picking and packaging fruits and vegetables on local farms but such work is not guaranteed.

In Australia it is very easy and also difficult as well to get employed for the international students. Many students are able to get a job after spending certain time, if they are good in speaking English. If you are good in speaking English earlier, then you can obviously find good opportunities. It is for sure that only immigrants can acquire a full time job.

Many tertiary institutions have a career service. They advertise job vacancies, help their students to find work and give information on writing applications and approved payment rates. Employment centers at institutions advertise a range of jobs. You can also find work through newspaper advertisements, an employment agency or the government's national employment service, Job Network. Australian Workplace for International Students

Students can also get a job in their field of education and this will build a good platform for their career and helps them after completion of their academics. Even the country encourages the students with preceding professional skills. There is high possibility for the merit students to get Permanent Residence in Australia.

Many universities and colleges are now accommodating the job market by changing the study curriculum in order to place the students in good positions. In this process, students will be recruited as a trainee during their final semester and after completion of their academics they will be appointed permanently.

Tax File Number (TFN)

TFN is an 8 or 9 digit number issued by the Australian Taxation Office (ATO) to each taxpayer to identify their Australian tax transactions. As an employee in Australia it is compulsory to apply for the tax number and pay tax for the income accordingly. You can apply for a Tax File Number through any newsagent or post office to work in Australia. It is better to contact the Australian tax office about their requirements and processes.